12V SMPS Adapter No Voltage Output Repaired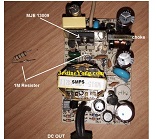 Received 12V adaptor stating problem of not working. Done visual inspection of DC PIN, Wire & Plastic body for Burnout /Physical damage everything seems OK.
Checked for DC output for 12V multimeter is not showing any reading. For further inspection I opened the adapter and done visual inspection of the PCB seems OK no physical damage found. Checked continuity of the output DC wire found ok. So concluded the problem in the Circuit only.
Done some Voltage testing up to main capacitor it shows 300V DC that means up to this section circuit is Ok. But not getting any reading toward secondary side. So decide to check the components by cold testing (Using Multimeter in Buzzer Mode to detect open leaky or shorted components in the circuit).
On cold testing near switching Transistor I found open circuit 1MΩ Resister which is connected between Collector and Base of switching transistor MJE 13009 where base bias voltage is derived from the collector voltage.


Replaced New 1MΩ Resister

After soldering new resister I kept the circuit on the mains power for testing.
Now Meter Showing Reading of DC 12.4V on DC output Pin.

Finally reassembled the adapter and now it is ready to use.


This article was prepared for you by Yogesh Panchal who works as a Computer Hardware Engineer in Mumbai India.
P.S- Do you know of any your friends who would benefit from this content that you are reading now? If so, forward this website to your friends or you can invite your friends to subscribe to my newsletter for free in this Link.
Note: You can check his previous repair articles in the link below:
https://jestineyong.com/lenovo-adapter-customer-sent-it-back-to-me/
Likes
(

70

)
Dislikes
(

0

)