160 GB SATA MAXTOR HDD Repaired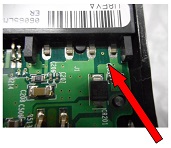 This PC was brought to me and the complaint was the Operating System could never start.
With the message of the photo above, the PC was restarted and by means of Del key the Setup was loaded, and have a look what I saw in the in the photo below:

Obviously, the HDD (Hard Disk Drive) was not recognized by the BIOS (only the Optical Unit was recognized by the BIOS), and this was the culprit of the error message (Reboot and Select proper Boot device …)
The SATA and the voltage connectors were checked out and everything was in perfect condition till here.

Therefore the HDD was extracted from the cabinet to check it on.

It was a MAXTOR of 160GB and with SATA connection, it was necessary to save it due to the information it had saved. The golden contacts of the SATA connector were cleaned with a Pencil Eraser, but this did not solve the situation: the PC could not load the Operating System yet.
The other option was to check any damaged or burnt electronic component of the PCB, but everuthing was good. But in the voltage connector some solder joints were found in bad conditions.

Anyway the four contacts were re-soldered with fresh tin this time.

When the HDD was inserted in the cabinet and the PC was turned on, look at the result.

The error message disappeared and the Operating System could load this time with no problem. The owner was very happy, mainly due to his information had not been lost.

The HDD had been recovered and the three Partitions (C, D and E) were present with the whole information. Another HDD saved from the dump.

This article was prepared for you by Humberto Rodriguez, one of our 'Master Authors' from Cuba
Please give a support by clicking  on the social buttons below. Your feedback on the post is welcome. Please leave it in the comments.
P.S-  If you enjoyed reading this, click here to subscribe to my blog (free subscription). That way, you'll never miss a post. You can also forward this website link to your friends and colleagues-thanks!
Note: You may check his previous repair article in the below link:
https://www.jestineyong.com/laptop-lenovo-repaired/
Likes
(

111

)
Dislikes
(

0

)