2000mAH Lithium Ion Faulty In Battery Pack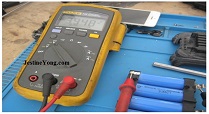 A customer, a good friend of mine came to the shop and was carrying a Makita drill set. As he explained the problem; one of the battery packs was completely dead. When pushing the test button on the battery, it does not show any sign of life.

As you can see, it is 20 volts, 2.0 amp rated battery.
The only way to find out what is wrong, I had to open it and check what is wrong. Let the repair begins.

It is as easy as it looks, only four screws to come out and I was able to see inside this battery pack.

It is in very good conditions but that did not stop me from checking over for cold soldering joints or loose connections. All checked out fine.
My mind was set of the batteries inside this pack and in order to get to them, I have to solder these six soldering joints to get there. I de soldered them all and look what I found.

I wanted to disconnect the batteries and check every one on its own because I had that feeling that one of the batteries is faulty and since it is connected in series it will affect the performance of this battery pack.

As I was individually checking the batteries, all of them checked fine except one.
The value of every battery is 3.6 volts.

As you can see, the bad battery is found and now it needs to be replaced.

As you can see, I already added the replacement battery which is the pink battery. In order to do that, you have to lift the black plastic piece off and put a new battery in and then re solder all the joints to have a solid connection and that is what I did.

This is the old faulty battery that was replaced with the same specification battery but different color. I know pink and blue do not match but once it was covered, nobody will notice the difference.

I know it looks ugly with that soldering job on these batteries. I need a spot welder for this kind of job. I have seen homemade spot welder built from scratch. Someday I might be able to build one for my shop.

As you can see, the battery pack is alive and well. The customer charged it and used it on his drill and it worked fine. Mission accomplished.

This article was prepared for you by Waleed Rishmawi, one of our 'Master Authors' and currently working in the Bethlehem area of Palestine repairing electrical and electronic equipment.
Please give a support by clicking on the social buttons below. Your feedback on the post is welcome. Please leave it in the comments. If you have electronic repair articles to share with us, please contact us HERE.
P.S-  If you enjoyed reading this, click here to subscribe to my blog (free subscription). That way, you'll never miss a post. You can also forward this website link to your friends and colleagues-thanks!
Note: You may check out previous post in the below link:
https://jestineyong.com/unique-capacitor-value-found-in-power-supply/
Likes
(

86

)
Dislikes
(

1

)