21 Inch Hotpoint CRT television (model 21JI8US) wide horizontal lines repaired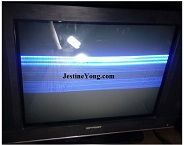 I got a phone call from a client who wanted me to check a television which the owner wanted to dispose as a junk. Since the client knew I am technician, wanted me to check it out and see if it is repairable so that she can make a decision to buy or not.
I passed by her place and was taken to the store where it was kept and the first thing I did was to connect it to the power outlet to find if it has any life in it and this is what I saw.

With this, 'on the screen' I was able to conclude that the power supply (s.m.p.s) is up and running, horizontal drive is up to the task, horizontal output is doing fine, fly-back is very happy and therefore after opening I need not go to any of those circuits for any troubleshooting purposes since it will be waste of time which is a limited resource (we all have 24 hours in a day) and technician are not excepted.
Using the same symptoms to analyse the problem I was not happy with the way the vertical circuit was doing its work because I expected the screen to be full vertically but this is not the case as seen from the screenshot above.
After that initial conclusion it is now time to open the set for the practical part of it and to test my hypothesis.
After opening the set this is what I got, one inch deep of dust layer covering the main board, I took care of that using a soft brush

After cleaning the board things are now taking shape and it is time to start troubleshooting.

With the dust taken care of, I started my troubleshooting, first I scanned around the vertical circuit and I was able to pick two capacitors with the top slightly swollen.

The capacitors were labelled C562 and C563 and both were rated 1000uF/25V.

I soldered the two capacitors out of the circuit and tested them out of the circuit and this is what I got.

A capacitor rated 1000uF is now reading 36.17uF and ESR reading of 0.15K ohms equal to 150 ohms (0.15 X1000=150 ohms)
I have intentionally taken the same data for a good capacitor with the same value as you can see here below.

So a good capacitor of the same value is now reading C=985 uF and an ESR reading of 0.21 ohms.
Some technicians ask me what is the best ESR values for capacitors and my answer is to compare with the same values capacitors but any capacitor with the ESR over 5 ohms, one should compare other factor like voltage rating/values. After replacing the two capacitors, now it is time to power up and this is what I got on the screen.

Nb: I was not able to get the circuit diagram of this Television and therefore I can only assume that the two capacitors were used to filter the vertical circuit supply.
Thank you friends
Humphrey Kimathi

Humphrey Kimathi is from Nairobi Kenya and the author of CRT Troubleshooting guide, DVD Player repair guide, CRT Television repair course and Basic Electronics course. He is also a blogger at Electronicsrepairmadeasy.com
Please give a support by clicking  on the social buttons below. Your feedback on the post is welcome. Please leave it in the comments.
P.S-  If you enjoyed reading this, click here to subscribe to my blog (free subscription). That way, you'll never miss a post. You can also forward this website link to your friends and colleagues-thanks!
Note: You may check out his previous repair article below:
https://jestineyong.com/14inch-lg-television-dead-now-repaired/
Likes
(

91

)
Dislikes
(

1

)