A shorted satellite receiver repaired. Model: HD9696 PVR Xvid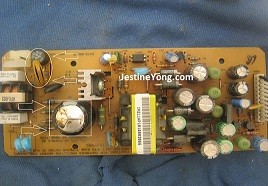 I have talked about a shorted electrical burner control board yesterday and now,
I am continuing to talk about the satellite receiver that was also shorted out due to an increase in voltage.

It is a HD satellite receiver that cost about 300 dollars in my country.

I took the power board off so I can show more in details about the blown that this machine has taken.

As you can see, the main capacitor, the fuse, and the varistor were all blown.

This machine has taken a big blow and it survived thanks to the fuse, and the varistor. Many people take the blown varistor out and do not bother to replace with a new one. If that varistor was not in this device, the whole power supply will be damaged and the cost of the repair would be more expensive. It is very important to replace with a new one.

These three parts were replaced with new ones. I checked the whole power supply for more shorted component and found none. To make sure that I did not miss anything, I used the light bulb trick to confirm it. The light bulb came on very bright then it went dim and that was nice to see. I replaced the fuse and powered up the machine and it came on.
I connected it to a TV set and let it run for more than an hour. It worked perfectly.


It worked fine for a long time and the customer was happy to hear that the second machine is working fine. Mission accomplished.
Now, I moved to the third shorted machine that he brought to me. It was a power board for whirlpool brand fridge that was shorted. So I will see you soon in the next repair article.

This article was prepared for you by Waleed Rishmawi, one of our 'Master Authors' and currently working in the Bethlehem area of Palestine repairing electrical and electronic equipment.
Please give a support by clicking  on the social buttons below. Your feedback on the post is welcome. Please leave it in the comments.
By the way if you have any good repair article that you want me to publish in this blog please do contact me HERE.
Likes

(155)
Dislikes

(0)
Likes
(

4

)
Dislikes
(

0

)