3 Major Components Replaced In Power Section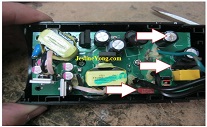 A guy who lives near buy came see to me in my shop and asked if I know how to repair a USB charger that he brought from USA. I told him, you put in the 220 volts didn't you? With a smile and nodding of the head he said yes. I asked him to bring it over and I can take a look at it. He said he will be right back.
Soon enough, the guy came back and brought the USB charger with him.

That is the specification of the USB charger that he brought. And as you can see it runs on 120 volts.

These are the charging ports and there is also a 110 volt outlet on the bottom of his charger.
Now, the challenge for me was to open this charger. I tell you, it was not easy at all.

It took me a while figure this out. First, you have to take this top off. The way to do it is by pressing down and then turn clock wise turn and it will come off.

When taking that round piece of plastic out, you will be able to see this but we are not done yet.

There are two screws holding the two pieces together. One already out, and the other is marked.

The two side of the charger came off and the first thing that I saw was the plugged capacitor. That was not a happy sign because I am sure other component were shorted as well.
As indicated by the arrows, I found the fuse open and in relation to that, I am almost sure that the bridge rectifier is shorted as well.
Upon checking all that, the fuse, bridge rectifier, and the capacitor needed replacement before I go any further with the repair.

Once I replaced these parts and connected it to a step down transformer 220 to 110 AC volts, the device worked.

As you can see the charging icon appeared on my Iphone display. Mission accomplished.

This article was prepared for you by Waleed Rishmawi, one of our 'Master Authors' and currently working in the Bethlehem area of Palestine repairing electrical and electronic equipment.
Please give a support by clicking on the social buttons below. Your feedback on the post is welcome. Please leave it in the comments. If you have electronic repair articles to share with us, please contact us HERE.
P.S-  If you enjoyed reading this, click here to subscribe to my blog (free subscription). That way, you'll never miss a post. You can also forward this website link to your friends and colleagues-thanks!
Note: You may check out previous post in the below link:
https://jestineyong.com/ld7575ps-power-ic-shorted/
Likes
(

87

)
Dislikes
(

0

)