6 Bad Components Found In Dual Output Power Supply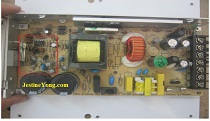 A guy who works with my brother in a medical company brought me this power supply for repair. It was completely dead and it needed urgent repair.

If you look to the model number you will see that this dead power supply has two outputs; 12 at 2 amps and 30 at 5 amps ratings.

As I took the screws off this device and uncovered the inside board, I immediately saw the damage.
It was water damage issue and a lot of parts already have been shorted and actually seen on board.

When I saw this I had a chat with the customer about the repair and suggested to buy a new one since they are cheap and easy to find. At least that is what I had in mind but checking for such power supply that has dual outputs was not an easy thing to find except on the net.
The device was urgently needed and waiting for almost 22 days for the new power to arrive is out of the question.

That is the other side of the board and as you can see, the damage is huge and needed a lot of work.


The main fuse was open and therefore the bridge rectifier was shorted along with the Mosfet with part number 9N90C and the power IC with part number UC3842B. You may click on the datasheet photos below to access the website:


A fuse resister was open and the small burnt resister after searching on the net, I came to a conclusion that it was a 1k ohm.

I had to fix the connections on the printed circuit as well and make sure that it was clean from any water damage marks and then I installed the entire new components back on board.

The 12 and the 30 volts DC were present and steady.

Mission Accomplished.

This article was prepared for you by Waleed Rishmawi, one of our 'Master Authors' and currently working in the Bethlehem area of Palestine repairing electrical and electronic equipment.
P.S- Do you know of any your friends who would benefit from this content that you are reading now? If so, forward this website to your friends or you can invite your friends to subscribe to my newsletter for free in this Link.
Note: You can check his previous repair articles in the link below:
https://jestineyong.com/lg-cd-tape-player-shows-no-disk-repaired/
Likes
(

68

)
Dislikes
(

0

)