65 Watt Autovoltage Laptop Power Adapter Repair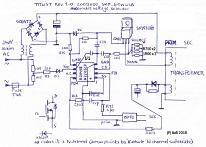 This repair is about an 65W special autovoltage laptop adapter from manufacturer Trust.


It was from my good friend Adri's old second hand laptop he had bought which was also the reason why he didn't have the original adapter that originally came with it.
His laptop was okay when tested with another adapter but the Trust autovoltage adapter wasn't.

I examined the primary components of the board. The biggest problem was at first not being able to determine what PWM SOP8 controller was used. Because any chip code was hardly readable. Previous photo only gave enough information after I used my Traveler USB microscope and adjusted the contrast and color settings a bit in Photoshop afterwards.
It was a B29498, B2203CP. But to be sure I needed to establish if that controller chip existed and still could be obtained. And searching for number B29498 resulted in nothing useful. But apparently a type B2203CP is definitely a PWM Controller. It in fact is an OB2203 Quasi-Resonant Flyback chip from manufacturer ON-BRIGHT.
And after comparing the chip pin functions with the schematic I had drawn, I was almost 99% certain that I needed to order that SOP8 chip. And also a new N-channel mosfet SMK1060 because both components were defect. Below one important page of the OB2203CP chip datasheet followed by a datasheet of the mosfet SMK1060 that is controlled by the OB2203 and normally provides current to the primary of the Transformer. It took me a while before I finally found a seller who provided these OB2203 controllers. And apparently others already were out of stock. So I was more than happy that the only seller I could find still had some in stock. And that being said I wondered if anyone ever succeeded in placing another pin compatible type of PWM controller chip instead of the original controller? Anyway I ordered 10 of them for 2.72 euro. And 20 x SMK1060 did cost 6.63 euro.

Not only the mosfet and the controller U1 were defect but also four in parallel connected resistors type R750//R750//1R00//1R00 smd R24 to R27 in the connection between Source and gnd (min pole
e-cap). Which makes it a safety current limiter of 0.2142857 ohm. Equals 1 / (14/3) which gives 3/14 ohm. And because every resistor that breaks open limits the current more it is safer than 1 resistor.


Above schematic explains a lot. After the controller chip U1 was removed I could measure an open voltage of about 34V DC on the VCC pin 6 of the controller solder pad. Which is correct and will be limited to a lower working voltage when a new controller chip is placed. The Trust autovoltage selector adapter board was rev 1.0 20091120 SMP-65WUSB (with extra USB connector secundair). Next photos show more of the primary parts of the adapter.







After the photo with the primary N-channel SM1060 mosfet, all next photos are from the secondary adapter side. Notice the nice external 5V USB connector at the secondary safe side of this adapter. The primary plastic 4AT (slow) Fuse was still intact likely because the two R750 and two 1R00 parallel connected resistors all were blown open and no current was able to flow after the mosfet and of course the B2203 controller U1 had collapsed. Likely because of overcurrent that blew the mosfet and the controller to kingdom come. And semiconductors are the first to go compared to a slow fuse. If you want to know when you have got a N-channel or P-channel mosfet there is a simple trick to remember comparing to how we use the diode Cathode Negative- Anode Positive rule. A diode conducts when the Cathode is negative to the Anode. If we look at the arrow in the symbol of the mosfet in the datasheet of the SMK1060 we see it points to the substrate of the mosfet. And it only conducts if the substrate is negative like the arrow in a conducting diode. So it is a N-channel.
All parts on the secondary side were fine after I had replaced U1 and mosfet SMK1060F. I previously only started to examine the secondary 45NQ10T which was fine. And after I had replaced both U1 and primary switching mosfet SMK1060F, the blue power led worked nicely and I could measure a perfect 19V again!
I was very glad that my conclusion in finding the right controller chip was correct because already before ordering these I was able to match the circuit with the datasheet of the controller OB2203 U1! And I hate to just gamble and ordering parts that I afterwards do not need. But I had to order 10 of them, which means that I still have nine of these OB2203 controllers left. It is questionable that I will need them again soon. But having spare parts at hand is the life of a busy repair-engineer.
Checking all parts of this adapter's secondary autovoltage circuit would have been a real time consuming process and luckily the primary side of this and other adapters are a lot easier to fix.
The only thing left to do now is finding a good replacement for those tiny R750 and 1R00 smd resistors R24 to R27. Here a snapshot of those now defect smd resistors after they were removed.

And my good friend will be able to use his laptop again with this special Trust autovoltage power adapter.
P.S- The original mentioned broken open resistors R24 to R27 (type R750 and 1R00) were about 3.2 x 1.4 mm. So must have been 1206 packages. And today I ordered those in 1206 and in 2010 5mm x 2.5 mm format.

Albert van Bemmelen, Weert, The Netherlands.
Please give a support by clicking on the social buttons below. Your feedback on the post is welcome. Please leave it in the comments.
P.S- If you enjoyed reading this, click here to subscribe to my blog (free subscription). That way, you'll never miss a post. You can also forward this website link to your friends and colleagues-thanks!
Note: You can read his previous repair article in the below link:
https://jestineyong.com/why-modern-equipment-not-always-can-be-repaired/
Likes
(

95

)
Dislikes
(

3

)