9W LED Bulb Repaired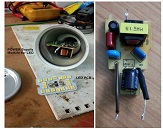 In our house in the night time I am using this 9W led Bulb for reading purpose. Once I have light up the Bulb it lit up for half an hour and suddenly it starts Flickering so I removed the bulb and kept it aside for repair.
After few days I checked the bulb by powering but it start flickering and goes off. So now it is time for operation……………….
First I have remover plastic dome from the top after removing dome I have removed two screws and desoldered two wires from the PCB.

On PCB I didn't find any physical damage.
Now I pulled out the PCB after desoldering and clearing Solder from the holder cap.


Pulled out the PCB. Component side No physical damage found. On solder side I Found some dry solder.

I renewed solder joint and applied Power.

Kept bulb outer casing on the led PCB so that LED on illumining light intensity is not strain the eyes and photo also look clear.
It works fine without flickering. Now bulb is ready for burn in test ( Continuous everyday Operating). Now 15 days Still working without problem.

This article was prepared for you by Yogesh Panchal who works as a Computer Hardware Engineer in Mumbai India.
P.S- Do you know of any your friends who would benefit from this content that you are reading now? If so, forward this website to your friends or you can invite your friends to subscribe to my newsletter for free in this Link.
Note: You can check his previous repair articles in the link below:
https://jestineyong.com/dell-laptop-misbehavior-on-booting-repaired/
Likes
(

73

)
Dislikes
(

1

)