A battery charger was brought to life. Mosta: MT1008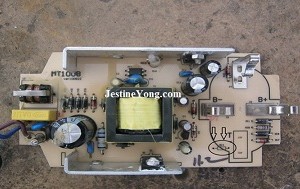 A carpenter and a friend of mine brought this battery charger to my shop. The complaint was it does not charge. It was not completely dead but it was not charging.

When I measured the positive and the negative terminal of the charger it was giving me 31 volts. There was no power led on. As suggested in the picture that you see. The moment it was plugged in power, it was suppose to give a green blinking light. If the battery was inserted in the charging port, it suppose to give a steady red light but it was not doing any of that although the 31 volts reading was at the negative and the positive charger terminals.
Few screws off and I was able to see what inside the charger.

Everything checked ok in this charger except one main suspect. It was a component that I could not recognize at all. It looked like a diode but it has a line in the middle. According to the writing printed on the board, it says R14. I checked with Mr. Jestine yong and he suggested that it was a diac and he informed me how to test it with an analog multi meter.

He told me to set the meter to x10 K Ohm and it should have no reading on either side. The moment I tested it with the analog meter, I got a slight reading on both side indicating a faulty diac. I bought a brand new one from the shop and the moment I tested it with the meter, it gave me no reading whatsoever indicating that the one I have is a faulty one.
The moment I replaced the diac and I powered it up, the light power indicator started to flash on and off. According to the instructions on the front of the battery charger, that is a working battery charger. I plugged a battery in and the light changed to steady red, which is an indicator of a charging mode.
I never tested a diac before but thanks to Mr. Jestine and his experience I was able to do that today. Today I gained more experience in electronic repair and I am sharing this knowledge with you today. Mission accomplished.

This article was prepared for you by Waleed Rishmawi, one of our 'Master Authors' and currently working in the Bethlehem area of Palestine repairing electrical and electronic equipment. Please give a support by clicking  on the social buttons below. Your feedback on the post is welcome. Please leave it in the comments.
By the way if you have any good repair article that you want me to publish in this blog please do contact me HERE.
Likes
(

58

)
Dislikes
(

0

)