A Blu Tooth Speaker With Ripped Charging Port Replaced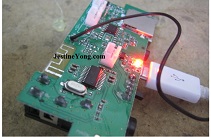 A German guy brought his blu speaker for repair and told me that he ripped the charging port by mistake and he wanted me to replace it.


I peeled the top plastic off exposing the buttons and the five screws and once these were out,
I was able to see the board holding the ripped charging port.

The damaged C charging port was inside the device so I cleaned it and prepped the board area to solder back the port.

The pads were ripped off as well so I added fresh solder to the negative
and the positive terminal of the port and soldered the port back.

I plugged in the charger and right away I could see the red light coming on but at this time the battery was not connected.

I reconnected all the wires back on board, put everything back together and tested again. As seen in the photo the light was on and charging. Later on the charging color changed to green indicating the charging was done. I tested the speaker and everything was working according to specs.
Mission accomplished.

This article was prepared for you by Waleed Rishmawi, one of our 'Master Authors' and currently working in the Bethlehem area of Palestine repairing electrical and electronic equipment.
P.S- Do you know of any your friends who would benefit from this content that you are reading now? If so, forward this website to your friends or you can invite your friends to subscribe to my newsletter for free in this Link.
Note: You can check his previous article on How To Repair LG LED TV With Logo Stuck
Likes
(

46

)
Dislikes
(

0

)