A Blue Tooth Speaker With Broken Charging Ports Replaced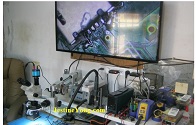 These blue tooth speakers charging ports always fail due to the fact that people are very rough when they plug and unplug the charging wires off and they end up either breaking the charging ports or ripping them off board.

This charging port was completely damaged and had to be replaced.
So without any delay, I started taking all the screws off to get to the broken port and get it replaced.

It was very easy to get it open and in no time I was able to take the broken charger off and get it replaced with a brand new one.

That is my new set up in the shop. My eyes were getting tired using the microscope so I bought a new camera and that way I was able to see the repair I am doing on this big TV monitor. It took me a while to get used to it but it seems easier than doing work while looking through the lens.
I was able to solder back a new charging port and it was a piece of cake and so fast with the new setup I have so I was really happy with this even it cost a lot of money but it was worth it.

As seen, the charging light is on and the right voltages reaching the battery and it was charging fine. It was time to put everything back and call the customer for pickup.

Called the customer for pick up and he was happy his device is up and running.
He gave me more stuff to do for him and to that I could say
Mission Accomplished.

This article was prepared for you by Waleed Rishmawi, one of our 'Master Authors' and currently working in the Bethlehem area of Palestine repairing electrical and electronic equipment.
P.S- Do you know of any your friends who would benefit from this content that you are reading now? If so, forward this website to your friends or you can invite your friends to subscribe to my newsletter for free in this Link.
Note: You can check his previous article on A Bridge Rectifier Replaced In This Welding Machine Restored It Back To Life
Likes
(

48

)
Dislikes
(

0

)