A Brand New Welding Machine Stops Working After Powering It Up On A Power Generator Repaired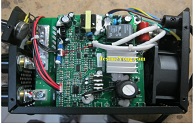 A friend of mine bought a brand new welding machine and took it to his property where no power lines are present and the only option was to use it on power generator. It lasted only half an hour then a big bang was heard and the machine stopped working.

This is a very good machine with reasonable price, very light yet very reliable machine when it comes to strong welding and I recommend it to many welding technicians.
Today, this machine was powered up using the wrong line of power which caused some damage to which I hope will be able to get up and running.

I did not see any obvious damage to this welding machine so it was time to do some component testing on board and find out what is wrong.

It has two boards on top of each other and if I want to test the components I have to take the top board off to check the lower one.

Very clear design on board, easy to follow and find out what is wrong. As you can see, it is brand new welding machine.

It showed short on every component on that board yet when I took the component off board; the part tested fine which lead me to change my investigation on how to find the bad part.

After a while I came to this part which was blown and that is the varistor which I should have checked long time ago and that would have saved me a lot of testing time.

The moment I de soldered that off board, the short was gone and everything was reading normally.
This part has saved the welding machine from a lot of damage and I am glad that machine was protected.

The part number was not clear to read so I just added another varistor (S20 K300) which what I use in welding machines all the time and works like a charm.

The machine came on when I powered up through a current limiter and everything seems to be testing fine.
The welding technician came for pick up and he wanted to test it himself. It tested fine and he was very happy his machine is up and running again.
Mission Accomplished.

This article was prepared for you by Waleed Rishmawi, one of our 'Master Authors' and currently working in the Bethlehem area of Palestine repairing electrical and electronic equipment.
P.S- Do you know of any your friends who would benefit from this content that you are reading now? If so, forward this website to your friends or you can invite your friends to subscribe to my newsletter for free in this Link.
Note: You can check his previous article on A Bridge Rectifier Replaced In This Welding Machine Restored It Back To Life
Likes
(

52

)
Dislikes
(

0

)