A Broken Screen For Iphone 10 Replacement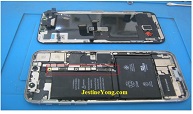 My nephew brought his Iphone 10 that has a broken screen and asked me to replace it with a new screen; He also provided the new replacement. Usually that is a 15 minute job if you know what you are doing and with that in mind let us start.

The Iphone was on but there was no display.
The only way to shut it down is by opening it and disconnects the battery.

There are two screws near the charging port and once these were out I applied heat to the Iphone and then started to pry it open gently. Once the screen is loose from the housing of the Iphone, it opens like a book but be careful there are flex cables connected to the board inside. Disconnect the battery first then disconnect the screen flex cables after wards.

There are one flex cable which has the speaker, camera and the proximity sensor that needed to be removed from the old screen then installed on the new one. There are three tiny screws holding this flex cable to the body of the screen.
Take these screws out and then apply a little bit of heat and gently take this flex cable off and install it on the new one. The flex cable is very fragile and any wrong move could rip it apart.

Once all that was done, I connected the three flex cables back on bard then I connected the battery.
The battery was completely discharged but once I connected the charger, the Iphone came on and l was able to test the functionality of it later on; everything seems to be in good working order.
Mission Accomplished.

This article was prepared for you by Waleed Rishmawi, one of our 'Master Authors' and currently working in the Bethlehem area of Palestine repairing electrical and electronic equipment.
P.S- Do you know of any your friends who would benefit from this content that you are reading now? If so, forward this website to your friends or you can invite your friends to subscribe to my newsletter for free in this Link.
Note: You can check his previous article on Active Speaker Repair
Likes
(

40

)
Dislikes
(

0

)