A clock/radio/environment device repaired. Homidics SS-4000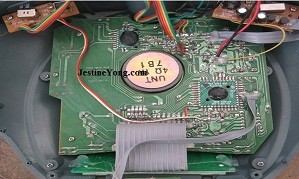 An interesting machine was brought to my shop. It was a combined device that has radio, clock, environment sounds and on wall clock laser display.

The main problem with this device was the wall laser clock display. When powering the machine up, everything works but there was not strong light in the laser compartment to make reach the wall. If you get the machine close enough to the wall, you could see it but very faintly.

After taking the cover off, I headed directly to the laser sight compartment and took that apart as well.

A few screws off and I was able to see what inside the plastic compartment.

Lucky me, I could see the light on but nothing was broken except the focusing dial was not sitting on its tracks. That explained why I could not focus the laser beam on the wall. The moment I put back on its tracks and moved the focusing dial I could actually see the display on the wall but very faint because of the bright sun inside my shop.
One thing kept bothering me, why anyone would put a clock display in a dark room when sleeping? The other things on the machine I could understand; the ocean sound, the nice blowing of a soft wind and other effects on this machine. These sounds can put me to sleep but when I wake up at night and looking on top of me and see this clock laser display over my bed that would freak me out.  I am just wondering. Anyway, back to our repair.

This is the actual display that came back to life. It was very bright and wide display of light when I used it in dark room.
For your information, I have not repaired this kind of display before but with common sense I was able to repair it in just a half an hour.
The customer was glad that the laser display was restored and I was happy that he liked it. I asked him about the display in a dark room and how he felt about it. He said he just liked the blue display on the wall. Customer always right. Mission accomplished.

This article was prepared for you by Waleed Rishmawi, one of our 'Master Authors' and currently working in the Bethlehem area of Palestine repairing electrical and electronic equipment. Please give a support by clicking  on the social buttons below. Your feedback on the post is welcome. Please leave it in the comments.
By the way if you have any good repair article that you want me to publish in this blog please do contact me HERE.
Likes
(

7

)
Dislikes
(

0

)