A Computer Speaker System Repaired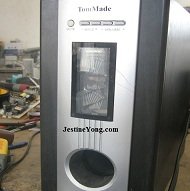 A TomMade computer speaker system was brought to my shop by a customer who explained that this speaker system do not produced any sound. I hooked it up to my desk top and indeed, I could not hear any sound coming from this system. I could hear some noise when switching on the system but other than that, it is dead. The main front panel was broken so I did not see any stand by light come one.

I hooked up the two speakers that came with this system and I when powered the machine, I could hear a faint sound coming from both speakers. When I touched the speaker wires, I could hear the sound loud and clear but when I let go of the wire, the sound goes dim again. The first thing that came to my mind, a connection problem in the RCA plugs of the main unit. It was time to open it and check it out from the inside. There were only a few screws on the back of the unit. It was easy to open.

Once the screws were out, the back of the speaker system was open and I could see the power board inside.

Since I did hear some noise when switching the machine on, I was assuming there was nothing wrong with the power board, only the RCA connectors on board.

As you can see in the photo, both red and black RCA connectors were glued to the board and only three screws holding the RCA connectors to the back of the wooden board. I took the three screws out and I had to clean the glue off in order for me to take the connectors off the wooden board. Once I did that, I could see that both connectors are damaged and need to be replaced. The only problem with that plan was, I could not find replacement for these connectors. One thing came to mind. I have these kinds of connectors in the back of a TV set or any machine that plays audio. Finally, I found two connectors one Red and one Black in the back of a satellite Receiver board.
Once I replaced these two RCA connectors and put the machine back together, I powered up the machine. I could hear the sound from both speakers loud and clear.

This article was prepared for you by Waleed Rishmawi, one of our 'Master Authors' and currently working in the Bethlehem area of Palestine repairing electrical and electronic equipment. Please give a support by clicking  on the social buttons below. Your feedback on the post is welcome. Please leave it in the comments.
By the way if you have any good repair article that you want me to publish in this blog please do contact me HERE.
Likes
(

20

)
Dislikes
(

0

)