A Dead Battery Charger Brought Back To Life. Model CBC-10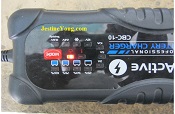 A young man brought his dead car battery charger for repair and the compliant was a dead charger.

This customer has two or more children that use electrical wheel chairs and this charger was the only one that has to charge these wheel chairs so he was in desperate need for the repair.

The moment I looked at it and took it apart, I was able to see this fault.
The positive and negative output wires were twisted together.

The fuse was open when I tested it and the moment I soldered off board, it broke in half. I went ahead and checked the bridge rectifier and shockingly it was intact but something was shorted because I could smell strange smell inside.

This Mosfet FHA9N90 was shorted to all three pins. It is 9 amps and 900 volts and it had to be replaced. Further testing was done and everything was ok.
I did not have this exact Mosfet in the shop so I had to replace it with something else and give it a try. I have a lot of welding machines Mosfets and the closest part that I could find to be the replacement is 23N60. That is 23 amps and 600 volts.
As I did the replacement and gave it a try, the stand by light came on but it will not give me a power reading on the output of the charger unless there is a battery connected as a load.

Remember the bad twisted cable; I had to fix that as well. I drilled a bigger hole to fit the thick two output wires and then I slipped them through

This was the result of the bad twisted cable. It was nice and neat and will not cause any problems I hope.

Mission Accomplished.

This article was prepared for you by Waleed Rishmawi, one of our 'Master Authors' and currently working in the Bethlehem area of Palestine repairing electrical and electronic equipment.
P.S- Do you know of any your friends who would benefit from this content that you are reading now? If so, forward this website to your friends or you can invite your friends to subscribe to my newsletter for free in this Link.
Note: You can check his previous repair articles in the link below:
https://jestineyong.com/a-toy-car-control-board-with-water-damage-issue-cleaned/
Likes
(

55

)
Dislikes
(

0

)