A Dead Battery Charger Was Brought Back to Life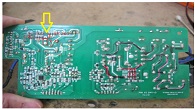 A guy on the electrical wheel chair brought this charger for repair. I fixed this charger for this guy about one month ago but at that time the repair was just a loose wire that took me a few seconds to fix but this time it was a challenging fault that I had to do a lot of research to get it fixed. Here is the story.

As I said before this charger was working just fine till the customer tried to charge another wheel chair with it; he plugged it in, a loud noise was heard and the charger was not powering on any more.

After I took the charger apart and right away I spotted the fault.
A diode (SR260) was shorted on the output section of this charger and next to it a part number K72 that was blown as well.


Please click here to access the SR260 Diode Datasheet
There was no problem locating the Diode part but the X72 was not known to me at that time. I checked on line and found no answer or any kind of information about it. I consulted Mr. Jestine and he informed me that it could be a resettable fuse but the name part could be different.
The part number is X72 which I found later that it is a PTC that goes up to 75 volts and it is a sort of protection for that circuit. A big thanks and appreciation to you MR Jestine for the help provided.

I installed the two blown parts and I powered it on through an amp limiter. AS seen in the photo, the red LED came on and that what it should be.

According to the charger specs, when powering on the device, the charger should give 24 volts on standby. When plugging the output plug into the car battery, I should get the two red lights (sometime orange) on which an indication that it is charging. When the charging is done, the charging light should go off and switch to green which means that the charging is done.
The guy on the wheel chair came by the shop and I powered on the charger, plugged into the chair battery and it was working fine. Sorry, I was not allowed to take a picture at this time because the customer did not allow me and I respected his wish.
I was so happy to help this guy out. My son in the shop was watching me trying to communicate with this guy (the customer can hear out and understand me but he does not speak) and whispered in my ears not to charge this man the repair fees. Hearing this from my own 12 years old son was just super amazing and that was my biggest blessings ever.
Mission accomplished.

This article was prepared for you by Waleed Rishmawi, one of our 'Master Authors' and currently working in the Bethlehem area of Palestine repairing electrical and electronic equipment.
P.S- Do you know of any your friends who would benefit from this content that you are reading now? If so, forward this website to your friends or you can invite your friends to subscribe to my newsletter for free in this Link.
Note: You can check his previous article on A CD Player With F61 Fault Repaired. Panasonic SA-AK18
Likes
(

65

)
Dislikes
(

1

)