A dead Dell laptop charger repaired. Model: DA90PS2-00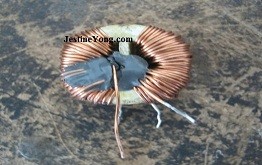 A computer technician brought this dell laptop charger to my shop and told me that the cable needed to be changed. Once I opened it and replaced the cable with a brand new one, it did not bring the laptop charger back to life.

The way to open such a charger is to use a sharp knife and cut it open. When you are done, just put it back with a tiny drop of super glue on the four corners of it. Just make sure you do a nice straight clean cut so when you put it back, you will not see any gab between the two boxes sides.

I plugged in power and started doing voltage testing. There was no voltage reading at the main power capacitor and the logic way here is to start testing it from this point back to the main power outlet.
The next step to test was the voltage at the main bridge rectifier and there was no reading there either. I tested the fuse and it was not open but the moment I tested the coil that feeds power into the bridge rectifier, one of the legs was broken and that was the main power problem in this laptop charger.

As you can see in the photo, I took it out and tested it. It was broken and needed to be replaced.

Well, I looked around in my shop and could not find a new one to replace the broken one. Here is what I did. As you can see in the photo, there is some glue holding all the four legs together. I took some part of the glue that was holding the broken leg and took it out. That made the broken leg loose. I winded that wire backwards and that gave me enough wire to put back on the charge board and soldered it.
Before soldering it back on board, make sure you scratch the end of that wire so it will become conductive to electricity. You can do that with a sharp knife. Once I did that and soldered back on board, the laptop charge came back to life.
I tried it on the laptop and it worked nicely. Mission accomplished.

This article was prepared for you by Waleed Rishmawi, one of our 'Master Authors' and currently working in the Bethlehem area of Palestine repairing electrical and electronic equipment. Please give a support by clicking  on the social buttons below. Your feedback on the post is welcome. Please leave it in the comments.
By the way if you have any good repair article that you want me to publish in this blog please do contact me HERE.
Likes
(

27

)
Dislikes
(

0

)