A Dead Hair Straightener Brought Back To Life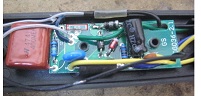 A lady brought this device for repair and the main complaint was; it does not power up. It is her personal one and she wanted it as soon as possible.

I have worked on such devices before and from experience usually this kind of issue is due to an open thermal fuse located under the heating element of the device.

As I powered the device up while customer awaits and sure enough, the device was completely dead and have no sign of life whatsoever.
To open the device is very easy if you know what you are doing. There are two clips on the side that has to be taken out; once that is done you would see a long screw beneath that and once it was taken out, the two parts of the device will be dismantled.

Straight away I headed to the thermal fuse under the heating element but to my surprise it was intact.
As I checked the board for faulty parts, I came across this resistor that was open.

As I took the resistor off board for further testing, it was confirmed to be open and needed replacement.

As it is seen in the photo, it was a 100 ohm resister and it is the first time that I see this fault; it is usually an open thermal fuse but no complaint there because this resistor is much easier to replace.

The moment the new resistor was replaced and the hair straightener was put together for testing, this was the result. I called the customer and she came right away to pick it up.
Mission Accomplished.

This article was prepared for you by Waleed Rishmawi, one of our 'Master Authors' and currently working in the Bethlehem area of Palestine repairing electrical and electronic equipment.
P.S- Do you know of any your friends who would benefit from this content that you are reading now? If so, forward this website to your friends or you can invite your friends to subscribe to my newsletter for free in this Link.
Note: You can check his previous repair articles in the link below:
https://jestineyong.com/blue-tooth-speaker-that-does-not-charge-repaired-model-jbl/
Likes
(

51

)
Dislikes
(

0

)