A Dead Lontor Rechargeable Water Standing Fan Power Supply Modified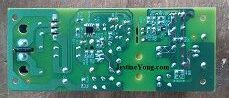 This 12V fan was brought to my work shop with complaint of not working. This fan uses water for cooling system. Picture below:

I did check and found smps, mainboard bad, but acid-lead battery has 10.6vdc.
The smps 's mosfet and pwm IC were burnt. Picture below is the power supply:


I couldn't get a replacement for pwm IC? so I decided to try hand on modification with the use of 3 wires universal power module for the first time. Having removed the two burnt components, I connected black wire to negative of tank cap, red wire to centre (drain) of fet, blue wire to collector of optoisolator . But I got secondary output voltage of 15.14vdc while the fan operate at 12vdc. Picture below after all connection:

So I decided to use 7812 voltage regulator IC to reduce the voltage. l connected the input to 15.14v, ground to ground of smps, output pin to 10 nf cap to remove ripples.
When voltage output was tested l got 11.95vdc, picture below:

Then I did modify mainboard also which I will not give full details now. However the unexpected happened: After I connected everything together and power the fan, the smps got damaged, I felt so bad having spent so much time on it. So I decided to use another smps which is of better quality for the repair. So I connected the second smps to main board. Below pictures are smps for this repair, left the burnt and right the one I finally use.


When I powered fan see result below:

However the mist system is no more functioning.
This is the finished repaired work below:


This article was prepared for you by Imoudu Onwumah from Nigeria. He is 62 years old and has just 3 years experience in electronics repairs. I started career in hotel industry as a chef, but then I was doing repairs only in electrical repairs as a hobbyist. In 2018, I decided to learn about electronics which through Jestine's electronics e-books and holding my hand, am an electronics techie today.
Please give a support by clicking on the social buttons below. Your feedback on the post is welcome. Please leave it in the comments.
P.S- If you enjoyed reading this, click here to subscribe to my blog (free subscription). That way, you'll never miss a post. You can also forward this website link to your friends and colleagues-thanks!
Note: You can read his previous article on Automatic Voltage Regulator Repair
Likes
(

61

)
Dislikes
(

0

)