A Dead Microscope LED Light Bank Was Brought Back To Life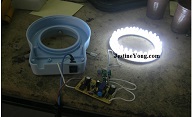 A fellow technician brought a dead LED light bank for repair. It was a very low quality LED lights. He bought it two weeks ago and as he tried to power it on, he heard a tiny blow sound coming from inside the device and it did not turn on.

Four screws to come off and I were able to take this device apart.
This is powered through a 220 AC volts and it does not have any external power supply.

It was very easy to take it apart and when I powered on the device, the LED light were flickering on and off for seconds (sorry I could not capture this on camera).

As I did my regular testing, the tiny blow that the customer talked about was my clue. The resistor that you see in the photo was used as a fuse and there was a hole in it. I tested for any shorts on board like the diodes and nearby components I found none.
As I replaced that resistor fuse with a good one, the lights came on but were still flicking on and off but this time it was doing it the whole time.
So I got my ESR meter out and started checking the capacitors on board. I found two bad ones. Once I replaced these bad capacitors…well, take a look

Mission Accomplished.

This article was prepared for you by Waleed Rishmawi, one of our 'Master Authors' and currently working in the Bethlehem area of Palestine repairing electrical and electronic equipment.
P.S- Do you know of any your friends who would benefit from this content that you are reading now? If so, forward this website to your friends or you can invite your friends to subscribe to my newsletter for free in this Link.
Note: You can check his previous repair articles in the link below:
https://jestineyong.com/an-air-condition-power-board-repair/
Likes
(

74

)
Dislikes
(

0

)