A Dead Milk Frother Device Was Brought Back To Life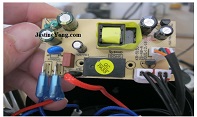 A travel agent who has an office near buy was traveling and bought this device. He did not pay attention to the voltage specification on it so he power it up with a 220 volts power and the machine was on but for some reason the motor was not spinning.

I was really surprised it was not blown up with the high voltage rating that was connected to.
I was willing to help him out and get this machine up and running

I connected the main power base to 110 volts (from a step down converter) and I could read 110 AC volts on base. I connected the device to it and surprisingly the heat button LED light came on but the motor inside was not spinning.

That was a good sign to see that and I proceeded with the repair.

I took the three screws off and exposed the inside of this device. I could not see anything wrong with it, not even blown or burnt parts.

It was in perfect conditions. The fuse obviously was not open since the LED lights on the main buttons were on. What could be the fault here?

As I recalled from the customer this device he bought recently and have not been used or even opened but I saw a soldering attempts on this board.
I know the photo is kind of blurry but I saw a lot of cold soldering joints there.

This is the motor inside the device and that was supposed to spin and the bottom plate should provide the heat. I could sense the heat but very clearly, the culprit is the motor itself. I decided first to re solder all the joints on that board and give it a try and see.
Later on I tried to rotate the motor manually it was not rotating. Could it be that the motor was just jammed? I applied more pressure to it and guess what? It started to rotate.
I powered it on with 110 AC volts and guess what happened? Well, take a look

Mission Accomplished.

This article was prepared for you by Waleed Rishmawi, one of our 'Master Authors' and currently working in the Bethlehem area of Palestine repairing electrical and electronic equipment.
P.S- Do you know of any your friends who would benefit from this content that you are reading now? If so, forward this website to your friends or you can invite your friends to subscribe to my newsletter for free in this Link.
Note: You can check his previous repair articles in the link below:
https://jestineyong.com/an-electronic-scale-that-does-not-power-up-repaired/
Likes
(

48

)
Dislikes
(

2

)