A Dead Treadmill Was Brought Back To Life. Model York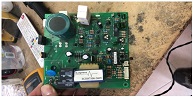 A close friend of mine called me about a treadmill repair and asked if he can come to the shop right away. When the customer arrived, he was carrying the power board of the treadmill to be repaired. I do not usually do any repair unless the whole machine is present at the shop but it was a difficult time with the corona virus and I was willing to give the guy a break.

I headed directly to the Mosfet and the big diode on that board.

If you look to the marked section of the board; that is a varistor that was taken off for inspection.
The varistor was shorted and the diode was found to be ok but the Mosfet was completely shorted to all three pins. Mosfet Part number IRFP450.


Please click on the above to access the IRFP450 Datasheet
As I installed the new Varistor and the Mosfet, I found some silicon compound holding the two thermal resistors together. It is usually white material that they add to hold down the resistors on that board especially during the shipping and also to avoid getting them loose due to the vibration of the machine when the engine is running. So I cleaned that area because the material dried up and was getting conductive; I added new material to hold down these two resistors to the board.
I drove to the customer's house and I installed the board on that machine and powered it up. The belt started moving and I let it run for a few minutes then I let some one give it a try and see if it can hold his weight without shutting down.I could not take a photo of the customer on that machine because he did not want to be seen so I have to trim the photo and just show the engine spinning.

Mission Accomplished.

This article was prepared for you by Waleed Rishmawi, one of our 'Master Authors' and currently working in the Bethlehem area of Palestine repairing electrical and electronic equipment.
P.S- Do you know of any your friends who would benefit from this content that you are reading now? If so, forward this website to your friends or you can invite your friends to subscribe to my newsletter for free in this Link.
Note: You can check his previous repair articles in the link below:
https://jestineyong.com/a-tiny-fuse-replacement-brought-this-fan-to-life/
Likes
(

54

)
Dislikes
(

0

)