A Dead Turkish Welding Machine Was Brought Back To Life. Model: Weld-200T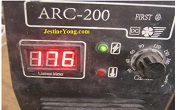 A welding technician brought this welding machine for repair. He explained that while welding he heard a loud sparking noise coming out of the welding and it went dead. The earth leakage tripped; he tried to power it on again but no use, it was completely dead.

I powered it up through my current limiter device in the shop and sure enough it was not getting the right voltage to power up.
I was getting no voltage whatsoever.

Before proceeding to find out the fault I saw this capacitor inside the welding machine.
It happens a lot in this brand; this machine though has four capacitors and if losing one capacitor, the machine will still work but it will not cause a shut down.

The power plug and the surround cable did not look ok and when I cut the cable off, I could see the fault in this machine. The phase brown wire was burnt and that explains the sparking noise and the tripping of the earth leakage. So I fixed that problem right away and headed deeper into the machine looking for shorted or burnt marks but found none.

I had to take this power board off, clean it, solder the capacitor back and hope for the best.

Few screws off and I was able to get to the power board and everything seems to be ok there as well.

After soldering back the capacitor, I applied fresh solder on that board, cleaned it and put it back together, I powered the welding machine on through a current limiter and it seems ok and running fine so I was about to take it to my brother next door, the customer came and picked up the machine.
Later on, he called and said that everything is working just fine.

Mission accomplished.

This article was prepared for you by Waleed Rishmawi, one of our 'Master Authors' and currently working in the Bethlehem area of Palestine repairing electrical and electronic equipment.
P.S- Do you know of any your friends who would benefit from this content that you are reading now? If so, forward this website to your friends or you can invite your friends to subscribe to my newsletter for free in this Link.
Note: You can check his previous article on PS3 With Red Light And Beeping Sound Repaired
Likes
(

57

)
Dislikes
(

0

)