A dead welding machine repaired. Model: super weld-200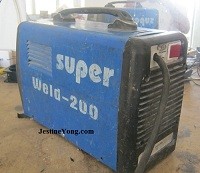 A very serious fault was causing this machine not to work. The moment I plugged it into the electrical power socket, it caused an electrical short in my shop.

The customer, who brought this machine to be fixed, told me that it only needs a fan. I knew better than that because I saw this. As you can see in the photo, the electrical plug was really bad and that what caused the short in the machine. I was hoping that this short did not cause any further damage in the machine itself.

Once I opened the welding machine and looked inside I could not see any sign of bad or burnt component but I will not be sure till I fix this cable and power up the machine.

Once I repaired the AC cable and the plug, I connected to the electrical socket and the machine came on. One thing did not sound right. I did not hear the fan kicking in.  Once I checked the fan, this is what I found.

This was a 24 volt fan connected to a computer chip that once it sense overheating, it gives a command to the fan to kick in and cool the machine. The only problem with this is I could not find a 24 volt fan to replace it. I only have a 220 volts fan sitting in my shop and I think I found a way to make it work. Instead of connecting the fan to the computer chip, I connected the 220 volts to the output of the power switch on the machine. Once the power button was pushed, the machine and the fan will work together. In other words, fan stays on all the time. I put this plan to action and here is the result.

I changed the power button to higher amp rating (16 amps) and I did my connection as you can see in the photo. The moment I pushed the power button, the fan also came on cooling the machine in a different but effective way. It was a challenge and fun. I enjoyed every minute of it.
In field of repair, we have to be creative to make things work. It we cannot find the right replacement, find another way to do it, test it, and approve it. Mission accomplished.

This article was prepared for you by Waleed Rishmawi, one of our 'Master Authors' and currently working in the Bethlehem area of Palestine repairing electrical and electronic equipment. Please give a support by clicking  on the social buttons below. Your feedback on the post is welcome. Please leave it in the comments.
By the way if you have any good repair article that you want me to publish in this blog please do contact me HERE.
Likes
(

26

)
Dislikes
(

0

)