A Dead Welding Machine Was Brought Back To Life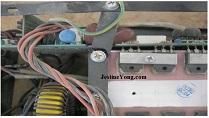 This machine was brought to my shop for repair and it was dead. If you look closely to the photo, you would see the bad shape the machine was in because it was dropped off a building which was three floors high and the customer was hoping to get up and running as soon as possible.
I told him I am a technician not a miracle worker but I will check it out and see what I can do.

I checked the machine very carefully and I did not see any damage to the boards but it seems like the damage was done to the body of the machine inside and outside.

The main power button was destroyed and I was hoping that replacing this part would bring the machine back to life;
these are just thoughts so I decided to replace the power button and give it a try after I fully inspect the main board of the welding machine.

The main and the power board were intact, a few screws missing here and there but to me it was ok to replace the broken power button and give a test.

To my surprise, the voltage readings were there and I took it next door to my brother to check it out. It was working according to specs.

Since the machine main plastic support was broken, I could not do anything about it except to use the outside metal cover to hold the machine together.
So I put the metal cover back and screw it tight; the machine did not look new but it was working according to specs and to that I could say
Mission Accomplished.

This article was prepared for you by Waleed Rishmawi, one of our 'Master Authors' and currently working in the Bethlehem area of Palestine repairing electrical and electronic equipment.
P.S- Do you know of any your friends who would benefit from this content that you are reading now? If so, forward this website to your friends or you can invite your friends to subscribe to my newsletter for free in this Link.
Note: You can check his previous article on Drilling Machine Repaired
Likes
(

54

)
Dislikes
(

1

)