A Dental Device That Powers On But Drilling Part Is Not Functioning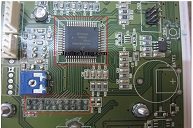 I have repaired a dental device just like this one before but this one has a different repair issue. This device comes on but the drill on it was not spinning for some reason.

It is an Italian made expensive dental device that needed some attention today and since the drilling part was not working
I opened the foot paddle that controls the drill and see if it has power there.

As I took the metal paddle off I was able to see the board there and on that board were component to be checked to find out what is wrong with it.

Here is a closer look of the board; when I tested for power, I got nothing. If you examine the board for a moment you would see the simple circuit there. As the magnet gets closer to the S1 it activates it and past the power through it to the drill but in this case there was no power there.

Since I was getting no power there, I traced it back to the source of that power and it lead me to this board.

The moment I scanned that board with my naked eye I could see water damage areas on that board. I took the board off and did some thrill cleaning to it and then installed the board back again.
The 5 volt trace that was supposed to drive the drill leads me to that IC. I checked for voltages there and I got nothing but there was voltages coming into the IC but not out.

Please click on the above photo to access to the datasheet
I decided to re flow the whole IC and hope for the best. I think the water spill in this device was affecting this IC and by re flowing it, I was hoping to bring it back to life.

I used my hot air station to reflow the IC and when it cooled down I put everything back together and tested the machine. To my surprise, the drill was rotation when I pushed the paddle down with my foot. I called the customer and informed him of the good news. He was so happy to hear that as he informed me that no one works on such machines and if such machines needed maintenance or repair he has to send it back to Italy or just simply buy a new machine.
This is my second repair success on this kind of machines and the dentists in my area know by now who fixes and maintaining them.
Mission Accomplished.

This article was prepared for you by Waleed Rishmawi, one of our 'Master Authors' and currently working in the Bethlehem area of Palestine repairing electrical and electronic equipment.
P.S- Do you know of any your friends who would benefit from this content that you are reading now? If so, forward this website to your friends or you can invite your friends to subscribe to my newsletter for free in this Link.
Note: You can check his previous repair articles in the link below:
https://jestineyong.com/a-dead-hair-straightener-brought-back-to-life/
Likes
(

71

)
Dislikes
(

0

)