A Digital Camera With Unusual Fault Repaired. Sony: PXW-X160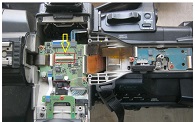 If you remember from previous article, this camera came to my shop for damaged USB port replacement and today it was brought to me for a different kind of fault. Take a look

On the top of this camera there is a buttons plate that controls the video functions of this camera.
All the buttons were not working and that is why I took the plate off for inspection and to my surprise, well, take a look and you will see the shock here.

If you look to the right of the photo you would see a flex ribbon cable that is glued to the socket which is connected to the board. The customer tired to fix the broken socket by adding super glue to fix the problem but instead he made it worse.
I could not get the flex cable off that socket and I could not get the socket off board because glue was all over that board. The only answer to this problem is to order a new board and new flex cable.

I called the customer and I explained the situation, he agreed the deal and I went ahead and ordered the part. Few weeks later the package came and I continued to work on that camera.

I put the flex cable in the socket (no super glue there, LOL) and connected the board back to the camera.

I screwed the top screws to the body of the camera and then I called the customer to come and pick up. He tested the camera and all the buttons, sorry I was not allowed to take photos but everything was up and running as expected.
Yes, it took a while to get the board in but the repair was completed and customer happy.
Mission Accomplished.

This article was prepared for you by Waleed Rishmawi, one of our 'Master Authors' and currently working in the Bethlehem area of Palestine repairing electrical and electronic equipment.
P.S- Do you know of any your friends who would benefit from this content that you are reading now? If so, forward this website to your friends or you can invite your friends to subscribe to my newsletter for free in this Link.
Note: You can check his previous article on Makita Charger Repair
Likes
(

64

)
Dislikes
(

0

)