A Drill Battery Charger Shorted Out, Maintained And Repaired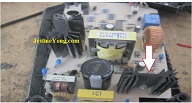 A guy walked into my shop and asked me to start fixing stuff for him. He just opened a new shop in town that deals with electrical repairs and wanted to expand it into electronic repair and that is where I come in as technician.

He brought two of these drill battery chargers and both were totally dead. When I powered on one of the devices, there was no indication of any life sign left in.
Today I am sharing with you guys the repair of one charger because both were having the same symptoms and the same repair was done to both chargers so let us begin.

That is the first thing I saw when I took the back cover off and that was not a pleasant sight. The size of that fuse wire that was added to the device scared me a lot and I was expecting the worse with this device.

Upon more inspection, I saw this repair done to the board and as you can see someone tried to get it fixed yet that technician did not deal with the cold soldering joints that are very obvious on that board.

Since the main fuse was repaired with a thick wire, the most logical thing to do is to check the diodes in the primary section of the power supply.
All three were shorted out but as always I replaced all four of these diodes.

I also found the Mosfet in this charger shorted out and had to be replaced.

All these parts were replaced but before I power the charger on, remember that damaged area? I went over it and get that area organized and ready to receive power.


Mission Accomplished.

This article was prepared for you by Waleed Rishmawi, one of our 'Master Authors' and currently working in the Bethlehem area of Palestine repairing electrical and electronic equipment.
P.S- Do you know of any your friends who would benefit from this content that you are reading now? If so, forward this website to your friends or you can invite your friends to subscribe to my newsletter for free in this Link.
Note: You can check his previous repair articles in the link below:
https://jestineyong.com/welding-machine-power-on-but-does-not-weld-repaired-model-zika/
Likes
(

74

)
Dislikes
(

0

)