A Fault In A Working Vacuum Cleaner Repaired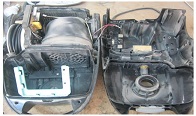 A vacuum cleaner was brought by a customer for repair. He said that it was working fine but the lever that controls the speed of the motor is faulty.

It is a vacuum cleaner.
Dust and dirt is part of its function and based on that I was almost sure that the lever that controls the motor was dirty; that is why it was not working; let us check it out.

I took all the screws off but the main one that was giving me a hard time was hidden under the power button. After I finally found it, I was able to take the top cover off and take a look inside the device.

I took the dirt bag and the filters out for cleaning; I headed directly to the faulty area.

As I took the two screws off I was able to reach the lever that controls the motor and I did something checking there.

As expect, it was dirty and needed some cleaning. I went ahead and cleaned this area and also checked the other side of it.

I gave it a shot of contact cleaning alcohol and re soldered the four soldering joints on the board.
I put the machine back together and tested it. The level was working just fine. I was able to control the speed of the motor. Customer was happy and the repair target was reached.
Mission Accomplished.

This article was prepared for you by Waleed Rishmawi, one of our 'Master Authors' and currently working in the Bethlehem area of Palestine repairing electrical and electronic equipment.
P.S- Do you know of any your friends who would benefit from this content that you are reading now? If so, forward this website to your friends or you can invite your friends to subscribe to my newsletter for free in this Link.
Note: You can check his previous repair articles in the link below:
https://jestineyong.com/ps4-with-strange-symptoms-repaired/
Likes
(

56

)
Dislikes
(

1

)