A Faulty Water Pressure Board Repaired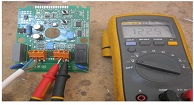 A plumber brought this board for repair. I have worked on different water pressure boards but this one was the first time but I think all have the same repair concept.

The board is very clear about where to connect the AC in and where the AC out for the motor.
It is a 220 AC volt motor that we are dealing with here.

As it is shown here in the photo; the main fault is the 122 AC volt output. It is not enough output to run a 220 AC volt motor.

In such repair cases, I head for the capacitor but in this case, the capacitor was within its functional limit and no need to be changed. I tested almost everything on board but finally found out the fault. It was the relay on that board.
I soldered it off board, added 24 DC volts to its coil pins and tested out the connections, there was no continuity there which indicates a bad relay.

Since I deal a lot with similar boards, I was able to find the same exact relay and replace the faulty one and…

I was happy to read 220 AC volts on the output pins of the water pressure board. I called the customer and he was so happy to hear the good news because these boards are too expensive to buy.
That was a new experience for me. I never worked on this specific board before but the challenge was accepted and completed.
Mission Accomplished.

This article was prepared for you by Waleed Rishmawi, one of our 'Master Authors' and currently working in the Bethlehem area of Palestine repairing electrical and electronic equipment.
P.S- Do you know of any your friends who would benefit from this content that you are reading now? If so, forward this website to your friends or you can invite your friends to subscribe to my newsletter for free in this Link.
Note: You can check his previous repair articles in the link below:
https://jestineyong.com/blue-tooth-speaker-with-faulty-charging-port-repaired/
Likes
(

61

)
Dislikes
(

0

)