A Hair Dryer That Produces Burning Smell Repaired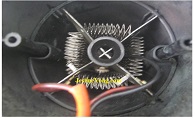 A hair stylist brought me one of his hair dryers for repair. He explained that once the hair dryer is being used, he could smell something burning coming from inside the device.

This is an expensive device that is used by many hair stylists around my area and
when someone say that it has burning smell coming from inside the device usually a sign of excessive use without maintaining the device.

I took two screws off and I was able to see inside the device and when I took the fan off, I saw this accumulated hair around the shaft of the motor and that is a clear indication of what I am about to see of "dirty, hairy full of" dryer.

Another two screws off and I was able to see this mess under the motor of the hair dryer.
That explained a lot about the burning smell the customer was talking about.

That is the heating element that sits directly under the motor and it was dirty. The photo that you see right now was taken after the cleaning.
I cleaned everything and added drops of oil on the shaft of the motor from both sides and made sure it was not producing any burning smell any more. I put everything back together, tested the hair dryer and everything seems to be working just fine.
Customer was happy to get back his device clean and ready to go. The customer said that he has a lot of hair dryers that needed fixing and he will bring more next time.
Mission Accomplished.

This article was prepared for you by Waleed Rishmawi, one of our 'Master Authors' and currently working in the Bethlehem area of Palestine repairing electrical and electronic equipment.
P.S- Do you know of any your friends who would benefit from this content that you are reading now? If so, forward this website to your friends or you can invite your friends to subscribe to my newsletter for free in this Link.
Note: You can check his previous repair articles in the link below:
https://jestineyong.com/a-microwave-oven-with-many-faults-repaired/
Likes
(

59

)
Dislikes
(

0

)