A Head LED Light That Was Flickering Repaired And Maintained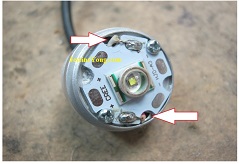 A man brought this Head LED light for repair. The customer said that this LED light is being used by his wife when doing the nails or her customers. Recently, the Light started to flicker every time the cable was moved or shacked.

Sorry I forgot to take a photo of the whole set but this is the main battery that the LED light runs on.
The green standby is on and I was able test the out for which about 12 DC volts. So the main problem is not in this part of the device.

These are the main wires connections that come directly from the main battery that supplies 12 volts to the LED light.
There were voltages there and when I moved or shock the cable the light flickered which indicating a problem in the cable itself.

I de soldered the whole cable off the tiny board and when I checked for continuity the positive side of the cable did not test good so I got a new cable and soldered it in place.

I had a cable in the shop ready to go for such a device. It has the plug already attached to it. All I have to do is solder the two ends of this cable to the board of the LED light.

Once I soldered the cable and powered on the LED light, it came on bright and steady this time. So it was time to put everything back and call the customer for pick up.

I had the Light zoomed out all the way so I can take a photo of it. It was working fine; the customer came for pick up and was very happy with the outcome.
Mission accomplished.

This article was prepared for you by Waleed Rishmawi, one of our 'Master Authors' and currently working in the Bethlehem area of Palestine repairing electrical and electronic equipment.
P.S- Do you know of any your friends who would benefit from this content that you are reading now? If so, forward this website to your friends or you can invite your friends to subscribe to my newsletter for free in this Link.
Note: You can check his previous article on LED Strips Replacement On A TV. Model: LG 32LN510Y-TA
Likes
(

51

)
Dislikes
(

0

)