A Heating Kettle That Is Not Heating Up Repaired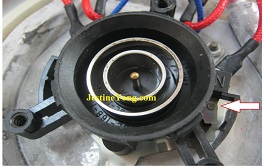 A special customer that asked me to do a repair for, the customer is my mom. She had this heating kettle that stopped working and she wanted me to get it fixed. I offered her to buy a new one but she insisted on getting it repaired and may be later on she will buy a new one.

When I powered on the kettle the red light did not come on to start heating so I took the bottom plastic off
to check the continuity of the AC line going to the main switch and to the heating element because I checked the base and it was giving out 220 AC volts.

From the look of it, I could see some black burn marks on the left side of the connection and it could be the main fault of this heating kettle.

I took three screws off and I was able to take out the whole connection for check up.

The connection was not shinny so used a sand paper to make it better and able to connect.

I took this screw off and I was able to check the connection pin form the other side to make sure all was well but it was not.
Take a look

So I cleaned that off with a fine sand paper and it was shiny again.

I put everything back together for check up and tested the heating kettle and it was working fine. The red light came on and when I added water to it and turned it on, it was boiling just fine.
I took it up stairs to my mom and she was thrilled that it is up and running. An easy repair job for a special mom.
Mission Accomplished.

This article was prepared for you by Waleed Rishmawi, one of our 'Master Authors' and currently working in the Bethlehem area of Palestine repairing electrical and electronic equipment.
P.S- Do you know of any your friends who would benefit from this content that you are reading now? If so, forward this website to your friends or you can invite your friends to subscribe to my newsletter for free in this Link.
Note: You can check his previous article on A Musical Keyboard With No Sound Repaired And Maintained. Roland E-40
Likes
(

38

)
Dislikes
(

0

)