A Laptop Powering On But With No Backlight Repaired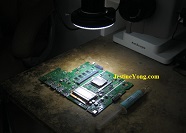 A university student who needed this laptop urgently brought it to my shop for repair and the main problem was no back light on the screen.

A very simple way to identify a back light issue is to shine a light over the screen and you will see what is being displayed.
I know the photo is out of focus but if you look carefully into it you would see a dim logo of the laptop being displayed.

There could be many reasons for dim display; it could be a bad screen, bad back light board or could be the screen socket on the board itself.
In my case was the main screen connector on board because when I touched the screen flex cable a brief flash of light appeared and then disappeared which could be a bad flex cable or the socket itself.

When checked through my microscope I found a lot of cold and bad soldering joints on that socket and that require a micro soldering job. I got the flux tube out and with a temperature of 400 and air flow of 60 set on my heat station I started gently to heat up the connected after adding the flux on it. To make sure all the soldering joints are connected firmly on board, I touched the socket pins with my flat soldering tip after adding good amount of flux and when the job was done, I let it cool down, clean it with IPA and assembled the screen and hoped for the best.

The screen is alive again but I could see another problem with it but all was well after clicking the restart my PC option and it came on nice and neat.
The customer was happy when I informed him of the repair and he rushed to pick it up because on that laptop he had a lot of information that has to do with his graduation thesis. I was glad I could help out in his matter and to that I could say
Mission Accomplished.

This article was prepared for you by Waleed Rishmawi, one of our 'Master Authors' and currently working in the Bethlehem area of Palestine repairing electrical and electronic equipment.
P.S- Do you know of any your friends who would benefit from this content that you are reading now? If so, forward this website to your friends or you can invite your friends to subscribe to my newsletter for free in this Link.
Note: You can check his previous article on A Welding Machine Shutting Down Due To A Broken Fan Repaired
Likes
(

62

)
Dislikes
(

0

)