A Laptop With Broken Charging Port Replaced and Maintained. Model: Dell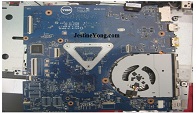 A guy next door brought me this laptop for repair. The laptop was completely dead and when he tried to charge it, something was wrong because it was not charging.

I believe it was the charging port because when I looked at it,
it was complexly broken and needed replacement.

If you look closely to it, you could see the metal exposed and was even touching the ground pin.

Here is a comparison of the two charging port and I am sure you can see the different between the two.

The sweet thing about this charging port is; it does not need soldering to replace it. I just took it out and replaced it with a brand new one.
I bought a lot of charging ports off Aliexpress so I have plenty of them in the shop.

That is the new charging port replacement. So I put everything back and tried the laptop and…

Mission Accomplished.

This article was prepared for you by Waleed Rishmawi, one of our 'Master Authors' and currently working in the Bethlehem area of Palestine repairing electrical and electronic equipment.
P.S- Do you know of any your friends who would benefit from this content that you are reading now? If so, forward this website to your friends or you can invite your friends to subscribe to my newsletter for free in this Link.
Note: You can check his previous repair articles in the link below:
https://jestineyong.com/an-active-speaker-that-powers-on-but-without-sound-repaired-meirenda-k12-2/
Likes
(

50

)
Dislikes
(

0

)