A Laptop Working Fine But Had Audio Problems. Model Asus: X556U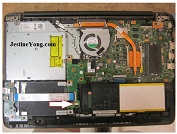 A college student brought his Asus laptop for repair and when testing it seems like it was working fine but the customer explained that the problem was the Audio; there was no sound coming out. He also explained that he sent this laptop to be checked by the computer technician assuming it was a software issue. That technician recommended me for the repair. Let us find out what is wrong, shall we?

The customer had this laptop for almost over a year and suddenly it had the sound issue. He also explained that he uses this laptop for gaming and most of the time he used loud audio when playing games.

It was very easy to take the top cover off and right away I could see inside this laptop and to my surprise; it was actually clean and nice. The fan had a little bit dust on it but it was spinning freely.
I headed directly to the speaker connections and checked the ohm reading there. The testing showed bad speakers there. Could it be just bad speakers? There is one way to find out. With the speakers disconnected, I plugged the output to external speaker system and checked for sound. The problem remained and no sound coming out whatsoever which led me to the audio IC just beneath that board that you see in the photo.

As I took the board off and right away I could see a tiny hole in the Audio IC. That answers the question of no audio issue.

This is a close up shot of the IC but I think it is out of focus but still the hole on the IC can be seen very clearly. The part number of this IC is ALC3236.
I contacted the customer about the situation. The speakers are bad and the main audio IC was bad as well. Since both going to expensive to replace I suggested the following: just replace the Audio IC and connect the audio out to an amplifier and that way you have very good audio. He agreed to that and based on that I replaced the IC for him.
Sorry I totally forgot to take a photo of the finished product but the computer was up and running and good audio was coming out of the line output. Mission Accomplished.

This article was prepared for you by Waleed Rishmawi, one of our 'Master Authors' and currently working in the Bethlehem area of Palestine repairing electrical and electronic equipment.
P.S- Do you know of any your friends who would benefit from this content that you are reading now? If so, forward this website to your friends or you can invite your friends to subscribe to my newsletter for free in this Link.
Note: You can check his previous repair articles in the link below:
https://jestineyong.com/a-power-issue-with-a-massager-maintained-and-resolved/
Likes
(

58

)
Dislikes
(

0

)