A LED TV Repair Attempt With A Disappointing Result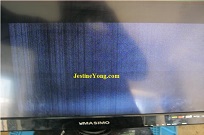 A 28 inches LED TV was brought to my shop. There is no display but the stand by light comes on green and it stays green. That is a normal behavior for a LED TV and likely the LED lights are open or most likely just one LED light open and affecting the whole strips of LED lights there. Let take a look.

I never seen this brand before but I am very sure it is a Chinese made LED TV.

Here is more information on the back of the TV.
As always, take all the screws you see on the back of the TV and then you will be able to see inside the TV set.

Back cover is off and the front screen panel is out as well. Here you need to exercise caution not to break this screen because if this happens, the TV is destroyed beyond any hope for repair.

Black frame off and I was able to see the LED lights with their diffusers attached. Once the white reflector off I could see the actual strips of the light and here where the fun begins.

You have the choice here of testing the actual LED light individually or get a LED tester machine and test the whole strip at the same time. After doing the test for the whole LED strips in there, as expected, I found only one LED light was open and it was affecting the whole LED strips on this TV.
I could not find a replacement for the LED light and that is why I shorted out the positive and the negative of the LED light. In other words, I am cancelling out the LED light and making it a connection to the other LED lights.
usually I test the TV set and if everything goes well, then I take out this open LED light and replace it with a new one or replace the whole LED strip in that TV .

As you can see, my whole repair time wasted in vain. I later was told by the customer that this TV was sent to another repair guy and he is the one who broke the glass panel. I was so mad at this customer and tried to tell him politely that what he did was unacceptable. He should have told me about the broken panel and I should not have wasted my time in vain on this repair.
Conclusion: always check the panel before doing any kind of repair on TV's. I believe it can be checked with a flash light and see if there are cracks on it. I have made a new policy in my shop that if I replace the LED light strips on any LED TV and later on I found that the panel is cracked, the customer has to pay for the wasted time spent on the repair. The customer has to agree to such policy otherwise, I will not do the repair. I have learned a valuable lesson here and I am extending this experience to you as well. Mission accomplished.

This article was prepared for you by Waleed Rishmawi, one of our 'Master Authors' and currently working in the Bethlehem area of Palestine repairing electrical and electronic equipment.
Please give a support by clicking on the social buttons below. Your feedback on the post is welcome. Please leave it in the comments. If you have electronic repair articles to share with us, please contact us HERE.
P.S-  If you enjoyed reading this, click here to subscribe to my blog (free subscription). That way, you'll never miss a post. You can also forward this website link to your friends and colleagues-thanks!
Note: You may check out previous post in the below link:
https://jestineyong.com/badly-burnt-varistor-in-control-board/
Likes
(

101

)
Dislikes
(

0

)