A Microwave Oven With Many Faults Repaired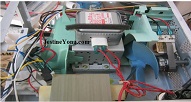 A friend of mine brought a microwave oven for repair and explained that the moment he plugs in the device even when the door of the microwave oven is open, the earth leakage button trips.

If you look inside the microwave oven you would see that it was clean and nice.
There was neither dust nor any humidity signs and I was wondering why this is happening?

Usually when this happens I do directly to the safety micro switches and check there for faulty parts but in this case it was not that kind of fault.

I connected my multi meter probes on the main power of the transformer and plugged in for power, I got 220 AC volts here but in few seconds the reading was lost and the earth leakage tripped again.

I traced the issue from the main two pins of the power transformer back to the power panel on the front of the device. I took the board out and started checking any shorts there but I could not find any.
The only thing I could find was cold soldering joints on the legs of the 220/10 AC volt transformer on that board. I re soldered all these cold joints, put everything back and powered on the device.

This time, the microwave oven stayed on and the earth leakage did not trip but when I tried to heat up something, the counter was running but the device was not heating up the water I put inside the device.

I checked for 220 going to the microwave front panel and I was getting 220 AC volts there but the question here why it was not heating the water up?

When I checked almost everything on the microwave oven, I came across this. The door was not sitting up right to trigger the micro switches inside the device. When the device powered up and I press down on this door, the microwave oven started to heat up things and when I let go, the counter on the front panel keeps running but no heat is being produced.

These are the screws that hold up the front door; one of the screws was loose. When I tied up the screw, the door was sitting the way it should.

I powered on the microwave oven after I did the door adjustment and everything worked according to specs. It was heating the way it was supposed to.
Mission Accomplished.

This article was prepared for you by Waleed Rishmawi, one of our 'Master Authors' and currently working in the Bethlehem area of Palestine repairing electrical and electronic equipment.
P.S- Do you know of any your friends who would benefit from this content that you are reading now? If so, forward this website to your friends or you can invite your friends to subscribe to my newsletter for free in this Link.
Note: You can check his previous repair articles in the link below:
https://jestineyong.com/iphone-11-pro-broken-screen-replacement/
Likes
(

62

)
Dislikes
(

0

)