A Mini Audio Speaker System Repaired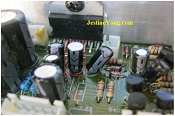 A bus driver brought this mini speaker system for repair and as he explained the problem, I tested it out while he is still in the shop and everything tested out fine. The sound was loud and clear, the wireless microphone and the SMD audio card were working the way they should. How can I repair something that was not obvious? I kept the speaker system in the shop for investigation and maintenance.

As I took the screws off the back plate of the speaker and turned the sound on, this time the sound was too low even I turned the volume up all the way.
I wiggled some of the inside speakers around and the sound was coming on and off indicating a loose connection somewhere.

As I was moving the board around, I spotted a capacitor that does not look good. I know it does not have to do with the issue but it was part of the maintenance that I promised the customer to do so I am doing it.

I replaced that capacitor and I did not test the speaker because I know there is a loose connection somewhere on board.

I started looking for cold soldering joints and I saw plenty of but my main focus was on the wires connections which you already seen in the photo.

When I was done with touching up all the cold soldering joints, I put everything back and tested the speaker. The sound was loud and clear even when I moved the wires around.
I added two fresh batteries to the wireless microphone because the low battery indicator was on and tested the microphone and it sounded great.
Mission Accomplished.

This article was prepared for you by Waleed Rishmawi, one of our 'Master Authors' and currently working in the Bethlehem area of Palestine repairing electrical and electronic equipment.
P.S- Do you know of any your friends who would benefit from this content that you are reading now? If so, forward this website to your friends or you can invite your friends to subscribe to my newsletter for free in this Link.
Note: You can check his previous repair articles in the link below:
https://jestineyong.com/lg-vacuum-cleaner-with-power-issue-repaired/
Likes
(

63

)
Dislikes
(

0

)