A Play Station 2 repaired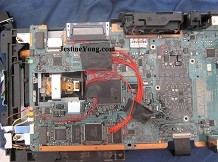 My cousin showed up to my workshop and started asking me a lot of questions about play station repair. I am not very familiar with play stations repairs but I do repair external power adapters that powers up play stations. Unfortunately, this slim play station did not have an external power supply and therefore, we had to open the play station. The main problem was the hand controllers were not recognized by the play station. My cousin and I decided to open it and find out what was causing this problem. The moment we took the cover off, we saw the power board. It was nice and clean but we are not wasting time on the power supply because it is already working.

The moment we took the power board off, we could see the main board and the black sockets that accept two controllers. Basically, we had to take every part off to get to the main controllers sockets. It was not hard; it was just too many thin wires and thin flex cables that were breakable. We had to be careful.

We traced the main controller's sockets all the way to the main board. There were a lot of cold soldering joints on that board. A lot of little tiny SMD parts that needed re-soldering. I had to use a strong magnifier to actually see what I was doing. It took me a while to do all the soldering and every twenty minutes I take a break because my eyes started to bother me. I also made sure that the wide flex cable connecting the main controllers to the main board was properly connected.

After I repaired all the cold soldering joints, I had to put the play station back together and give it a try. I connected one play station in the socket and the moment I powered up the play station, I could see a red light coming on and to me that was actually a very good sign.   I put a game disk in the play station and played it. The controller was working fine. That put a smile on my face. I was worried that all this time will be wasted in vain if the controller did not work. I was happy and very thankful that it actually worked.

This article was prepared for you by Waleed Rishmawi, one of our 'Master Authors' and currently working in the Bethlehem area of Palestine repairing electrical and electronic equipment. Please give a support by clicking on the social buttons below. Your feedback on the post is welcome. Please leave it in the comments.
By the way if you have any good repair article that you want me to publish in this blog please do contact me HERE.
Likes
(

8

)
Dislikes
(

0

)