A Power Board For A Medical Device Repaired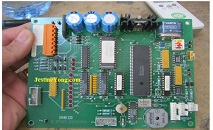 A medical company that my brother works in brought me a power board for repair. It is a board that supplies power to a medical device. The customer did not mention anything about the device but simply wanted to repair this board as soon as possible.

The board is very tiny and by the look of it,
I could see a lot of corrosion in some part of the board.

Here is a closer look of the board and I could see a broke trace on that board.

The broken trace was coming out of this transistor and one of the pins of this transistor was corroded as well and needed something attention.

The backup battery is also corroded and needed some attention as well. So I was hoping the corrosion is the only problem we have on this board.

Traced fixed and the transistor next to it, cleaned tested and put back on board.

The battery cleaned, charged and tested and found to be ok so I soldered it back on board.
I also went over the soldering joints on that board and re touched all of them which took some time but it was finally done.

As shown in the photo, this transistor pins had some cold soldering joints and it was re soldered once again and it was nice and shinny.
Since the customer did not bring the actual device for testing, I called him and was not able to bring the machine because it is in a different city about two hours away and the device is too heavy to move. So he had to come and get the board and take it to that location for testing.
After one week, he called and said it was working just fine when tested on a new device but when attached to the old device, the motor was not running assuming there is a problem with that motor.
He was happy that the board was working fine and he could keep it as a backup power supply whenever it is needed.
Mission Accomplished.

This article was prepared for you by Waleed Rishmawi, one of our 'Master Authors' and currently working in the Bethlehem area of Palestine repairing electrical and electronic equipment.
P.S- Do you know of any your friends who would benefit from this content that you are reading now? If so, forward this website to your friends or you can invite your friends to subscribe to my newsletter for free in this Link.
Note: You can check his previous repair articles in the link below:
https://jestineyong.com/a-treadmill-powers-on-but-the-motor-does-not-run-repaired/
Likes
(

66

)
Dislikes
(

0

)