A Shorted Electronic Welding Machine Repaired. Model: Caddy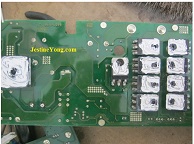 A welding technician brought this to my shop for repair. He brought this for repair because his father asked him to bring it to my shop. His father is also a customer of mine and he is a well known welder in my home town.

As a first step of testing this kind of equipment is to test the resistance on the negative and positive terminals of the welding outputs.
I have to get at least 450 ohms reading there. When I tested with my multimeter on these terminals I got nothing and when testing with diode reading, I got a zero reading indicating a short in the device.

From experience, a short like that usually caused by either shorted IGBT/Mosfet transistors or could be in the rectifier parts. I have to take this machine apart to find out.

It was dusty as expected but did not see any burn marks or anything that suggests bad parts on top.

It is strange to me that the body of it is plastic because it is usually metal so the ground connection will be available in every area of the case.

Finally I got to the area where the rectifiers are located. As expected, one of the rectifying transistors was shorted.

Once it was taken off board, the short was gone and I was testing resistance as usual.


Click to view datasheet
It was shorted on all pins and it has to be replaced. The problem is finding such part because we are talking about 60 amp ratings up to 200 volts. I could not find the exact part so I had to go with the replacement.


Click to view datasheet
This replacement actually is higher in power which is 300 volts but the same amp.
Once I replaced that shorted part, I added thermal paste to new and old parts on the machine.

These are the IGBT and the bridge rectifier found on the top board. The thermal paste was totally dry and it has to be replaced.
I did a lot of dusting on it and replaced the main power plug because the customer did not connect the ground wire to it for some reason.
I put everything back together and powered on the electronic welder and the result was as expected.

The guy did not provide the welding cables for this machine but with the reading I was getting on the main positive and negative terminals, I know for sure it was working just fine.
I also took it to my brother (he is a welder); and tested it out for the whole day and it was working just fine.
Mission accomplished.

This article was prepared for you by Waleed Rishmawi, one of our 'Master Authors' and currently working in the Bethlehem area of Palestine repairing electrical and electronic equipment.
P.S- Do you know of any your friends who would benefit from this content that you are reading now? If so, forward this website to your friends or you can invite your friends to subscribe to my newsletter for free in this Link.
Note: You can check his previous repair articles in the link below:
https://jestineyong.com/lcd-tv-with-strange-colors-repaired-model-sansui-3210/
Likes
(

69

)
Dislikes
(

0

)