A Shorted Facial Steamer Repaired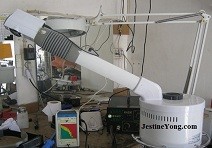 A lady came to my workshop asking me if I repair facial steamers. It was shorted out facial steamer. My thoughts, if it was shorted out, then there must be a printed circuit on it that needed fixing.

It was easy to open. Just two screws and the white top came off exposing what is inside the machine.

The design is very simple. It gets 220 volts that goes to a step down transformer feeding some areas of the circuit board. It has a mini heater built in to heat up the water to get the steam out. They mix this water with other chemicals that help clear out the skin resulting in healthier skin
Once I reached the circuit board, I could see it was dirty and some parts were wet. Before drying the board, it was very important to know where the water coming from to aviod another damage caused by water in the future.

It turned out that the main filter was not clean. The owner for some reason either forgot to clean the water filter or was too lazy to do it. Anyway, the damage was done and it is time to get this machine fixed.
I took the board out and cleaned it with chemical liquid. I re soldered all the dry joints on board. Put the machine back together and powered up the machine.
I could hear some peeping coming out of the machine and when I looked at the display, it mentioned something about adding water in the provided container. The moment I did that, the peeping stopped and I could see steam coming out. It was an easy fix and the time spent on repairing this machine was short. Mission accomplished.

This article was prepared for you by Waleed Rishmawi, one of our 'Master Authors' and currently working in the Bethlehem area of Palestine repairing electrical and electronic equipment. Please give a support by clicking  on the social buttons below. Your feedback on the post is welcome. Please leave it in the comments.
By the way if you have any good repair article that you want me to publish in this blog please do contact me HERE.
Likes
(

6

)
Dislikes
(

0

)