A Shorted IGBT On A Cheap Welding Machine Repaired. Model: Sniper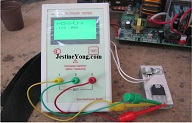 A guy came to my shop and was looking for a good welding machine advice. He showed me a lot of models and brand name of machines but when I checked the specs on them, I did not recommend any of them since they are not good machines. Sad to say, because these machines are cheap, they are being bought by a lot of welding technicians and they end up with disappointment simply because they do not want to spend more money for better quality ones.

Against my recommendations, this technician went and bought this one which was the worst one in the group that he showed me. Guess what? It did not last a month and now it is in my shop for repair.
It was completely dead and from experience I am sure there is something shorted like an IGBT or some cheap component burnt up.

Someone has been in this machine because I could see a fresh soldering joint on the IGBT in this machine.

The part number is FGH60N60SMD which is an IGBT and I have seen this part before in many of the cheap welding machines that I encountered.

It is very clear that the IGBT is shorted
and it can be clearly seen on the display of the meter that bought and added recently to my shop.

This is a healthy reading of a good IGBT and if you compare the two reading you would see the difference in testing bad and good IGBT's.

Right away, I replaced the shorted one with the good one, put everything back together and tested the machine.

17 volts is kind of low reading here and that is because it was still powered on through a current limiter. I took it next shop to my brother to test it out and it was welding fine.
Mission Accomplished.

This article was prepared for you by Waleed Rishmawi, one of our 'Master Authors' and currently working in the Bethlehem area of Palestine repairing electrical and electronic equipment.
P.S- Do you know of any your friends who would benefit from this content that you are reading now? If so, forward this website to your friends or you can invite your friends to subscribe to my newsletter for free in this Link.
Note: You can check his previous article on Water Pressure Device Not Operational Repaired And Maintained
Likes
(

58

)
Dislikes
(

0

)