A shorted microwave oven repaired. Model: Universal Uni-2040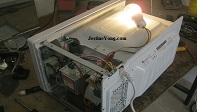 A guy brought this microwave oven for repair. It has a strange symptom; sometimes it heats up, and many times it causes the earth leakage switch to trip.
I powered up the microwave oven and nothing happens. The moment I took the screws off this is what I saw.

There was no fuse on that board. When I was moving the microwave oven around, I could hear something loose inside. I looked for that loose part and guess what I found? A fuse; 8 amp fuse and when I checked it, it was a blown fuse.

What caused this fuse to blow? Was it over load or shorted component in the oven?
I checked the power board and all checked fine. I added a light bulb to the fuse connection and look what I got.

Here, the microwave oven was not turned on, just plugged in power and as you can see, it is shorted.  After checking all the parts inside this oven, my mind was set to two problems. Either the magnetron is shorted out or one of the safety locks is shorted.

This is one of the main safety lock inside this oven. It is the only one that has three wires connected to it. When I took it out, it was jammed. It did not click. I pressed the button harder and it started clicking again. A very good idea to replace it and I did. Replacing that safety lock did not help me in my repair but I was one step closer to fixing this problem.
I moved on to the second option, the magnetron head. The magnetron is in charge of heating in this oven.

I unplugged the two pins coil connecter on the top of the magnetron and tested for shorts on the head; there was none. The testing is done by using the ohm setting on the multi meter by placing one probe to one of the pins and the other to the body of the head. If any reading fond, the head is shorted.
I decided to take it off and replace it with well know working head. Guess what? The short was gone and the microwave oven was working again. It seems like when there is a load on that dead; it trips the earth leakage switch. I tried to take a photo of it while it was on but as you can see; it was too dark to see inside it.

Mission Accomplished

This article was prepared for you by Waleed Rishmawi, one of our 'Master Authors' and currently working in the Bethlehem area of Palestine repairing electrical and electronic equipment.
Please give a support by clicking on the social buttons below. Your feedback on the post is welcome. Please leave it in the comments. If you have electronic repair articles to share with us, please contact us HERE.
P.S-  If you enjoyed reading this, click here to subscribe to my blog (free subscription). That way, you'll never miss a post. You can also forward this website link to your friends and colleagues-thanks!
Note: You may check out previous post about fixing active speaker in the below link:
https://jestineyong.com/a-shorted-welding-machine-repaired-model-force-145/
Likes
(

91

)
Dislikes
(

0

)