A Shorted Surround Sound Amplifier Repaired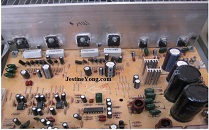 A friend of mine who is a repair technician contacted me about a surround sound amplifier that he encountered but he does not have any kind of repair experience in such devices.

The technician went further in the explanation about the device; it was powering on but the there was no sound coming out. It was sent to someone else for repair but instead the device was returned to customer dead.
The customer showed up to my shop and he was very upset and kindly asked me to take a look and see what I can do to help out.

As I took the top cover off, I saw this disaster on board. If you see the area where it is marked, all these capacitors in that area were exposed to high temperature and they were melted.
If you look to the back of the heat sink, you would see two missing power transistors which were taking off board by me because they were shorted. Part Number A1941 and C5198.


Please click here or the above photo to access the transistors datasheet
I do not know why these parts were exposed to high temperature but it was time to get this device fixed and send back to the customer.

As you can see in the photo, all the melted capacitors were replaced along with the two power transistors and hopped for the best.

I also took the big main capacitors off board and cleaned that silicon beneath them because that stuff was dry and conductive; it could cause damage to the device.

After all that long hours of work replacing parts, cleaning up the device, I powered up the device using a current limiter and everything seems to be smooth as expected.
The customer came to pick up the device and he brought all the speakers with him which I connected to the amplifier for a sound check. The customer and I were happy with the result and to that I could say
Mission accomplished

This article was prepared for you by Waleed Rishmawi, one of our 'Master Authors' and currently working in the Bethlehem area of Palestine repairing electrical and electronic equipment.
P.S- Do you know of any your friends who would benefit from this content that you are reading now? If so, forward this website to your friends or you can invite your friends to subscribe to my newsletter for free in this Link.
Note: You can check his previous article on Turkish Welding Machine Repaired
Likes
(

70

)
Dislikes
(

0

)