A Shorted Welding Machine Repaired. Model: Apex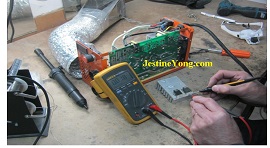 Yes I repair a lot of Apex welding machines but this is the first time I got a big one for repair.


If you look to the red light on the right of the screen you would find it on, an indication that something is shorted and most likely IGBTS.

The current limiter light bulb is lit brightly and that is a confirmation of shorted parts.

Someone has been in this machine and it was clear to see since one of the IGBT's has fresh solder on it. The customer confirmed that because he sent it to another technician but could not repair it simply, he did not have the replacement parts at his shop.
Later on that day I got a call from a friend of mine who is also a technician and he informed me about this welding machine. He took the shorted IGBT out and tested it and informed me that all of the IGBT's in this machine are shorted and needed replacement. He also warned me that the customer is very picky about the repair cost and told me to discuss the price with the customer before any attempts of any repair on this machine.
I called the customer and discussed the price (I always do that before any repair) and we reached an agreement so let us begin.

The board of this welding machine is very different from the ones I usually work on but the parts number are the same. And yes, all IGBT's in this machine were shorted and needed replacement. Part number is FGH40N60SFD.

I found chicken feathers inside the heat sink that the IGBT's attached to and the thermal paste on these parts was dry.


Click here to access the FGH40N60 Datasheet
I already have these parts available in the shop so I cleaned the area, added fresh thermal paste and installed new IGBT's in place.

Before attempting to power on the welding machine, I usually do this ohm check between IGBT's pins and I should get the same ohm readings otherwise something is shorted (usually SMD parts in the same circuit).
All readings were OK.

Through a current limiter I powered on the welding machine and if you noticed that the light on the right side of the photo is not on any more, an indication that the short was gone and instead, the power light was on.

Also the current limiter light bulb was very dim another indication all is well and it was safe to test the machine next door with my brother.

I was getting the right voltage but not through a current limiter this time. I took it next door for my brother to try and test and make sure all is well.
Of course everything was according to specs and to that I could say:
Mission Accomplished.

This article was prepared for you by Waleed Rishmawi, one of our 'Master Authors' and currently working in the Bethlehem area of Palestine repairing electrical and electronic equipment.
P.S- Do you know of any your friends who would benefit from this content that you are reading now? If so, forward this website to your friends or you can invite your friends to subscribe to my newsletter for free in this Link.
Note: You can check his previous article on PS4 Controller That Does Not Charge Repaired
Likes
(

58

)
Dislikes
(

0

)