A smoking LG microwave oven repaired. Model: MS-3443A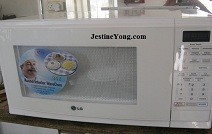 A guy working in an American agency brought an LG microwave oven and the moment I opened its door, I could tell what was wrong with it. Every time the microwave oven is in operation, bad smell comes out and after few seconds, smokes starts coming out. I saw black marks inside.

It was a brand new microwave oven but according to the wife's action, she tried to clean the inside with a chemical liquid and did not wait for this liquid to dry. When she turned it on with nothing inside the microwave compartment, the plastic holder that was holding the glass plate was on fire. I also found the motor that spins the glass plate was burning too.  As you can see in the photo, both piece were on fire every time the microwave was on causing the bad smell and the bad dark smoke. High percentage of microwave oven problems caused by not cleaning the inside compartment of the microwave oven on regular basis.

Both parts had to be replaced in order for the microwave oven to start working again. The motor runs on 21 AC volts and that was very had to find. Usually, these motors run on either 31 or 50 AC voltages.

For this microwave oven, I had to use a 30 volt one and to my surprise it worked nicely. For the other plastic part, that gave me a lot of hard time and I could not find it anywhere even when I talked to LG company located here in my area. LG claim that it was an old brand and therefore they cannot locate the part for me.
I was actually shocked to hear that. LG should have at least five years of product support even after they discontinue making this model. I had to be creative here to overcome this repair issue.

I had this piece in my shop which came from a different LG microwave model but it did not fit the original glass plate. So I used a smaller one that fits this plastic piece. I had to call the customer to come to my shop and take a look at it and see if he likes it or not. Well, he came and he was pleased with it. I gave him some tips on microwave cleaning. Mission accomplished.

This article was prepared for you by Waleed Rishmawi, one of our 'Master Authors' and currently working in the Bethlehem area of Palestine repairing electrical and electronic equipment. Please give a support by clicking  on the social buttons below. Your feedback on the post is welcome. Please leave it in the comments.
By the way if you have any good repair article that you want me to publish in this blog please do contact me HERE.
Likes
(

11

)
Dislikes
(

0

)